Samantha at Pebblebrook
Directed by Robert Adams, choreographed by Cindy M. Reiser and music directed by John-Michael D'Haviland, this production featured some great new ideas! Check out the terrific footwork from the cast of talented high school students at Pebblebrook High School.
Atlanta Premiere!
Samantha Spade,  Ace Detective got its first official licensed production at Pebblebrook High School, an arts magnet school in Atlanta. Check out some production stills!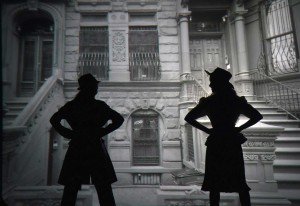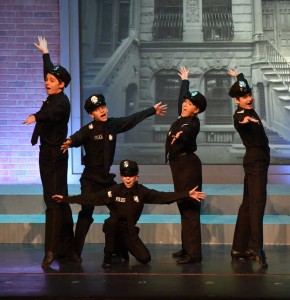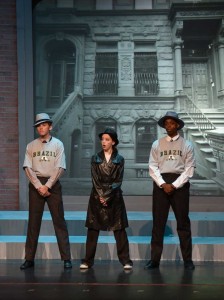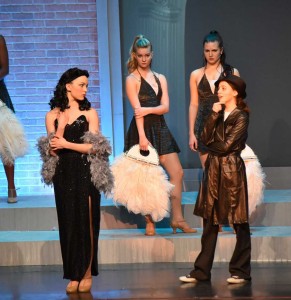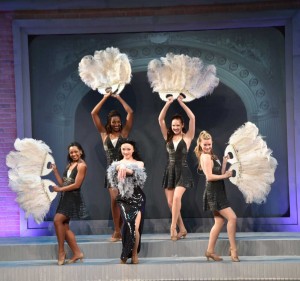 Recording the Demos
It was August and it was hot in New York. The streets were crowded, the men in shirtsleeves and the women in their flirtiest dresses, but no one stopped to pass the time of day under the merciless glare of the summer sun. The only thought on anyone's mind was the next patch of shade, the next air-conditioned doorway to linger in for a moment. The next iced lemonade on the couch.
But not for Lisa Diana Shapiro and Georgia Stitt. They were hard at work. At least, they called it work, but it didn't look that tough. Gather a bunch of students together, teach them the score of the show, record it at the studio. Piece of cake.
So that's how we came to be gathered in the rehearsal room at Pace University. A group of talented Pace students and one ringer from Northwestern. Putting the clues together to make the demo recording of Samantha Spade, Ace Detective.
Our swell cast included Mary Claire Miskell as Samantha. You've seen her before. In a little film called Slingin' the Slang. The canary with the sultry voice is Alex Getlin, by day an ordinary Northwestern University student, by night, a notorious presence at clubs like Feinstein's and 54 Below. She was Veronica all right. You wouldn't know it to look at them, but a little detective work will tell you that they had a previous relationship – as Phooey and Morbidia in Lisa's show Princess Phooey – when they were both 13. Time. It passes.
Rounding out the crew of dames, palookas, flatfoots and flim-flammers were Kendyl Ito, Kelsey Lake, Kerri George, Bettina Bresnan, Sean Potter, Tony Clements, Adam Levy, Billy Goldstein, Toren Nakamura and Jamal Douglas. Was there anything strange about the fact that they were all from Pace University? Probably not, considering we were there by the grace of Amy Rogers Schwartzreich, head of Pace's musical theatre department. Oh, yeah, and casting was done by Ryan Scott Oliver, also of Pace.
Randy Landau was on bass with Michael Croiter on drums and recording duty, along with Matthias Winter. Suspicious characters, all of them. Fortunately, we had Georgia running the show. You know what they say about Ginger Rogers – she did everything Fred Astaire did, only backwards and in high heels? Well, so did Georgia – and she played the piano at the same time.
It was a musical day in New York.
Backstage with Sam & Angel
We got a chance to chat with Chloe Pae, one of our Samanthas, and Ashley Figueroa, who plays Samantha's faithful sidekick, Angel.
Opening Weekend!
Opening weekend of Samantha Spade, Ace Detective: The Case of the Maltball Falcon was a smashing success!
The cast of the show are all members of Drama Desk Award-winning TADA! Youth Theater's Resident Youth Ensemble. Cast members, ranging in age from nine to 17, perform in a full season of shows each year, while receiving top-notch pre-professional training. Many of TADA!'s alumnae have gone on to television, film and Broadway careers.
In order to give Ensemble members the best possible opportunities, the two lead roles in Samantha Spade were double cast. Here are Chloe Pae and Maddy Abrahams (left) as Samantha and Veronica Venus, and Samantha Pohly and Samantha Besca (right).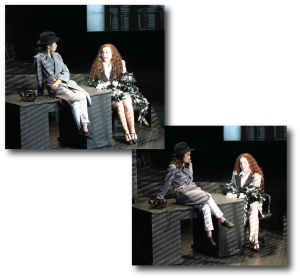 Veronica tells "The Story" (with a little help from some dames and palookas):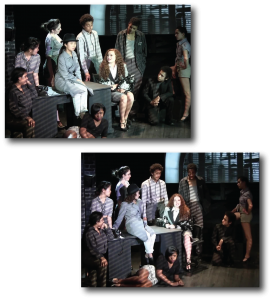 Samantha gets a visit from Greenstreet – and his little friend, M.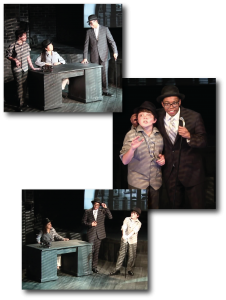 A gumshoe and a dame, caught between the cops and the redhots: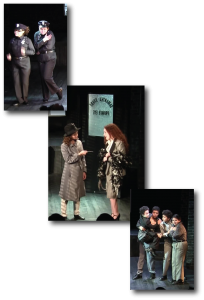 Cool and daring, she's the Red Herring!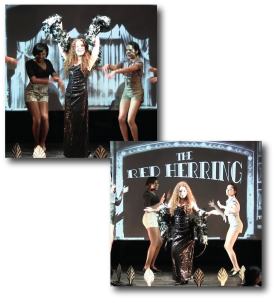 Solving the case . . . Twizzler?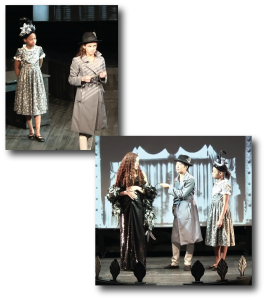 More Updates from Final Dress
Sneak peek at some video from final dress rehearsal!
Updates from Final Dress Rehearsal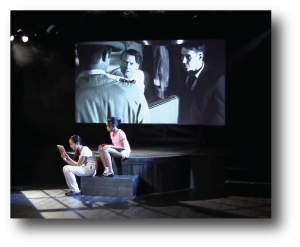 Here are a few shots from last night's final dress rehearsal. It's opening night, but maybe we'll get some sneak-peek video up, too!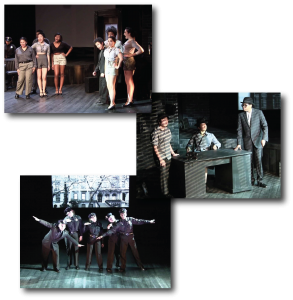 A New Cast for Off-Broadway
Three weeks from opening and the youthful cast of Samantha Spade, Ace Detective: The Case of the Maltball Falcon is hard at work.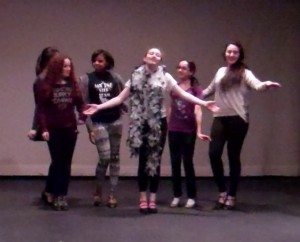 Director/choreographer Joanna Greer is at the helm of this Off-Broadway production, heading up a cast composed of TADA! Youth Theater's Resident Youth Ensemble. Alums of the ensemble (such as Mary Claire Miskell, our Samantha in the film) have gone on to great careers on Broadway and in Hollywood. Watch this group carefully and see if you can spot the next star!
We snuck into rehearsal and caught some footage of the cast working on – what else, "Slingin' the Slang"! Here's a little bit of the process.
Two key roles, Samantha and Veronica Venus (the glamorous client) are double cast in this production. You can see both our Sams in the video.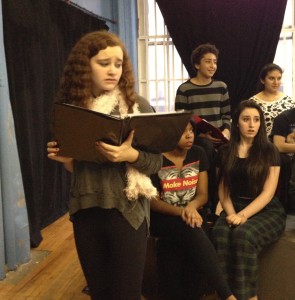 Here's one of the Veronicas last week, when the cast was still on book. (That means they were still learning their lines, so you can see her holding her script.)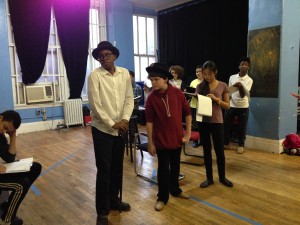 And, of course, the villains – Greenstreet, and his little friend "M."
Workshopping Samantha
You write and you write and you write, you sit alone at your computer or piano, you produce something that you hope will be a show. But you never really know until you actually see the play up on its feet.
Theatre is a communal art. Alone with the words, you may think your play is the funniest, most brilliant thing since the first Greek actor stood apart from the chorus and spoke the first line. (That would be Thespis, for you scholars.)
But if the audience doesn't get it – or worse, if they don't laugh where they're supposed to – it's not their fault. If the audience doesn't care about the characters and want to know what happens next – well, you haven't done your job.
So we try to find out whether we've done our jobs before we have real paying audiences in the house. We have workshops.
We had two weeks in September with a cast of talented young actors, a director, a music director, and us writers – Lisa and Georgia – at the TADA! space on 28th Street. Two weeks for the actors to learn the music and the director to partially block and choreograph the show, culminating in a book-in-hand performance in front of an invited audience.
Here are some highlights.
Shooting "Slingin' the Slang"
It was June. It was hot. It was bright. Too bright. Too bright for shooting film noir, anyway. But that's what post production is for.
You could take the edge off with a water bottle and a sit-down in the lobby of the Victory Theatre, where the dimness concealed our crew, busy with their gear, and our off-camera actresses getting a lipstick touch-up or just taking a load off in between takes.
Production designer Kevin Williams created our interiors with authentic period props and furniture. I like a man with a big closet.
Costume designer Kate Bergh, another one with a closet, dressed our dames in '40's period suits (did I mention it was hot?) and Samantha's sneaker of choice – Converse All-Star Chuck Taylors.
D.P. Brian Andrews manhandled the steadi-cam equipment, and director Myles Matsuno crooned to the girls, "Just act."  With choreographer John Todd just off-camera for encouragement (and tossing a hat every now and then), it was a sight to behold.
"Slingin' the Slang" featured dancers
Jessica Linde, Emma Becker, Olivia Huyler
Kudos to our fabulous cast of featured dancers, who did double duty as Crooks, Cops and Chorus Girls! We'll be posting more about these talented young performers as we get closer to posting Slingin' the Slang!